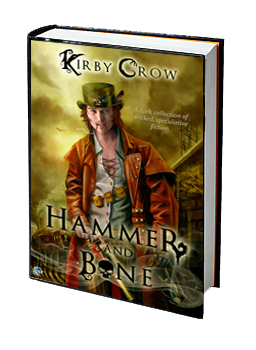 Hammer and Bone
The purest evil lives in the hearts of men.
Carnival mystics. Zombie tribes. Bad magic in the Bayou. Mage-princes, alien cities, and soul-stealing priests. The grim monsters in the worlds of these dark, speculative tales are true horrors, but itís the people you should fear the most.

People like Michel, a boy pining for his best friend, Ray. But a presence in the swamp calls Michel to avenge another lost love, and he must decide which summons to answer. Or Angelo, a prescient cop who denies his visions until they endanger the man he loves. Or Bellew, an overseer in a shantytown of criminals sheltering a revenant and feeding it from their ranks.

From ruined lands of steam and iron, to haunted Southern forests, to brutal city streets where hope and damnation flow from the same spring, only a few stubborn souls possess the heart to challenge evil on its own terms. Some wield magic, some turn to rage or even love, but the ones left standing will survive only if they find the courage to carve their own paths to freedom.

Even if it means carving through flesh.