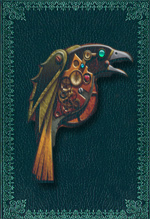 Can't get enough of Kirby Crow's wicked fiction? We can't either. Have a look at the author's extended interview from our March 2015 issue, where she discusses her new release, Hammer and Bone.
Life doesn't always give us a happy ending. Should fiction? Kirby Crow ponders this question in relation to her new collection of stories, Hammer and Bone.
"What made you venture into new territory, writing-wise, and where did the idea for Meridian come from?"
"Kirby Crow has a new book coming out, her first contemporary M/M romance, and I'm very happy to have her on the blog today to answer some questions about her new release, her plans for the future, and herself..."
"The prose is at times sheer poetry, the imagery stark and striking, the settings foreign and familiar, the allegory and fantastical elements a backdrop for the best and worst of men and magic."
Feature: Exclusive Excerpt of Hammer and Bone.
Feature: Interview with the author of Hammer and Bone.
This spooky, chilling number (Kirby Crow's HAMMER AND BONE) is a great way to spend a stormy evening as you don't want to sleep that night. We asked Kirby how she managed to keep the atmosphere chilling in all eight stories.
This blog is about men, and coffee, and porn, and sex, and wine, and music, and intelligence, and fun, and women, and really hot photos, and giveaways. And it's about how all that stuff is absolutely normal and we will no longer apologize for any of it. Today our Spotlight is on Kirby Crow's "Hammer and Bone" plus an interview!
Author of the award-winning horror/dark fantasy novel Angels of the Deep and popular M/M romance series Scarlet and the White Wolf, Kirby Crow graces us with her presence to discuss her writing toolbox, the fate of men on a fictional female-dominated society, and sometime wonders, "Where are they hiding the gay people?"
Today we welcome our very first guest of honour, the incredibly talented Kirby Crow! She is the brilliant mind behind the fantasy series Scarlet and the White Wolf and many great iconic titles. It's her unique voice that merges romance, humor, and dark elements together flawlessly that has drawn both Kaelin and myself to her writing. She has kindly dropped by to share the concepts and inspiration behind her work with us.
Enter any virtual world, whether by accident or design and you'll eventually stumble across –and possibly even become – one of two player types: the augmentalist and the immersionist....
Writers chase their dreams across the page. In "Circuit Theory", Reya Starck and I took elements and tools of virtual worlds that we knew already existed and pushed them a small step further.
Gender is a huge question mark in "Circuit Theory". No one knows who is who and what's under the hood, so to speak, and no one really cares. Synth is a world not yet realized. There are hundreds of online gaming worlds and MMORPG's that are similar to the system elements of Synth featured in Circuit Theory, but with the current state of technology, it just doesn't exist yet.
The virtual reality lover has a life apart from the object of his affection, usually a part that he can never share. When you dismantle the science-fiction framework from the story, the romance is essentially a classic Always Together/Eternally Apart trope....