Carnival mystics. Zombie tribes. Bad magic in the Bayou. Mage-princes, alien cities, and soul-stealing priests. The grim monsters in the worlds of these dark, speculative tales are true horrors, but itís the people you should fear the most.

People like Michel, a boy pining for his best friend, Ray. But a presence in the swamp calls Michel to avenge another lost love, and he must decide which summons to answer. Or Angelo, a prescient cop who denies his visions until they endanger the man he loves. Or Bellew, an overseer in a shantytown of criminals sheltering a revenant and feeding it from their ranks...

An undersea monster is beguiled by a drowned youth, the tormented beauty inside a beast emerges, a rare malady descends on a vampire coven, and enemies from worlds devoid of memory must work together to open a doorway to a new land.

Scarlet & The White Wolf
Book 1 of Scarlet & The White Wolf
A romantic retelling of a classic fairytale...
The Southern Continent of Nemerl is a lawless region of brigands, slavers, and petty overlords. The land is embroiled in bloody border skirmishes between the Hilurin and Aralyrin factions of Byzantur, and every day brings a new clash, a new horror. Scarlet of Lysia is an honest Hilurin pedlar, a young merchant traveling the wild, undefended roads. Liall, called the Wolf of Omara, is the handsome, world-weary chieftain of a tribe of Kasiri bandits blocking a mountain road that Scarlet needs to cross, except Liall demands a carnal toll for the privilege. Scarlet angrily refuses and an inventive battle of wills ensues, with disastrous results. Soon, the hostile countryside explodes into new violence, and proud Scarlet is forced to look to the most unlikely savior in the world for help.
Mariner's Luck
Book 2 of Scarlet & The White Wolf
Into the North...
Scarlet and Liall board the brigantine Ostre Sul, bound for a long and perilous voyage to Liall's homeland of Rshan na Ostre. The hostile Rshani crew dislikes foreigners, and Liall is determined to deposit Scarlet at the next safe port. Scarlet has ideas of his own, though, and has no intention of leaving either the ship or Liall. With the Ostre Sul pursued by enemy vessels, a traitor on board, and the waters turning to ice, Liall must make a final decision to either keep the young pedlar in his life or let him go forever.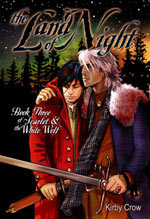 The Land of Night
Book 3 of Scarlet & The White Wolf
The Queen is dying...
Struggling to come to terms with his new life in Rshan na Ostre, young Scarlet is trying to find his place in a decadent, foreign society that bears an ancient hatred for all Hilurin. As Liall is pulled away from Scarlet and into the jaded intrigues of a royal court, the young pedlar wonders if they havenít both made a terrible mistake in journeying to Rshan. Each passing day, Liall seems more like a stranger, more like one of the haughty Rshani nobility and less like the bandit leader Scarlet knew in Byzantur. As Liall contends with the aristocracy to uphold his fourteen-year-old brotherís claim to the throne, an infinitely more dangerous enemy draws nearer, determined to part the lovers forever.
Angels of the Deep

Armageddon happens every day.
Becket Merriday is on the trail of a killer who is murdering beautiful young men in Irenic. One clue is being left with the mangled bodies: the arcane symbol of a snake twined around a burning tree. Beck is an atheist, but when he begins experiencing terrifying visions of the distant past, he is forced to confront his disbelief and investigate the murders from an occult angle. What he discovers is an ancient race of immortal beings hunted by an incredibly powerful adversary: the angel Mastema. Soon, Beck and his partner, Sean Logan, find themselves at the center of a deadly supernatural war.
Prisoner of the Raven
The sweetest surrender is love...
Fleeing from troubles at home, young Aleyn signs on to the crew of a merchant trade cog off the coast of Eire, but he has no idea what dangers await him on the open water. Viking raiders patrol the shores like hungry wolves, taking whatever they wish, and when Aleyn's ship is attacked and the crew killed, he finds himself the helpless prisoner of Ranulf Eriksen, a ruthless, powerful Viking jarl who commands the longship Lymskyr. Aleyn expects to be killed or sold to the Saxons as a slave, but Ranulf offers him a bargain: his body in exchange for his freedom. Faced with the choice of temporary whoredom or lifelong slavery, Aleyn chooses to give himself to the handsome and oddly-compelling Northman. What Aleyn could not have foreseen was how much two lonely people in extraordinary circumstances could learn about each other in so short a time. Ranulf, too, is unprepared for the strength of his feelings for Aleyn. As his Viking crew begins to suspect Aleyn of using witchcraft to meddle with their leader's wits, Ranulf must defend his lover from the murderous intent of his men without further risking his own tenuous hold on power...
:: READ MORE
Circuit Theory
(Novella)
Dante and Byron are avatars. Driven by human beings, yet still only digital representations of their ideal selves. In reality, they live far apart, but share most of their waking and working hours together in a virtual world called Synth. In Synth, like in most code, the laws are infinitely more simple and infinitely more complex. Navigating the system rules of virtual lovers is like steering through a minefield of deceit, suspicion, heartbreak, and half-truths. Under pressure, Dante makes a friendship that trips Byronís warning bells, disrupting their carefully-ordered lives and calling into question the wisdom of trusting your heart to a man you can never touch in the flesh.

Written with Reya Starck
Available in ebook now at Amazon